Why choose a sliding gate from TPS?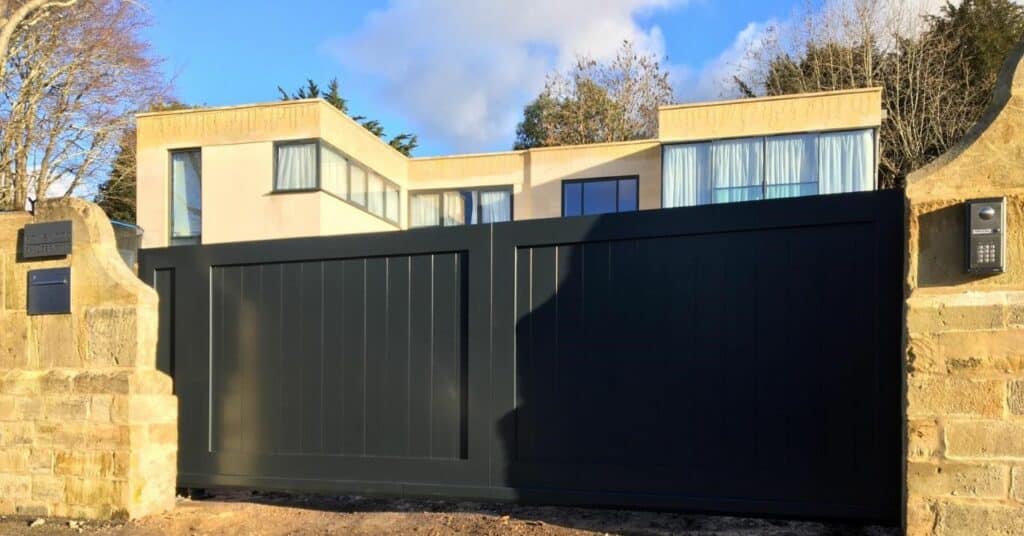 Sliding gates are a popular solution where space is limited or a sloping driveway inhibits the opening of swing gates. They can also allow clear access where an open swing gate would encroach on the route on to your driveway. With modern equipment and sliding gate gear we can produce very attractive sliding gate solutions without the industrial look of heavy tracks and roller systems. Our metal sliding gates can be manufactured to the same designs and patterns as our range of ironwork swing gates and either have the appearance of a single panel, or that of a pair of swing gates.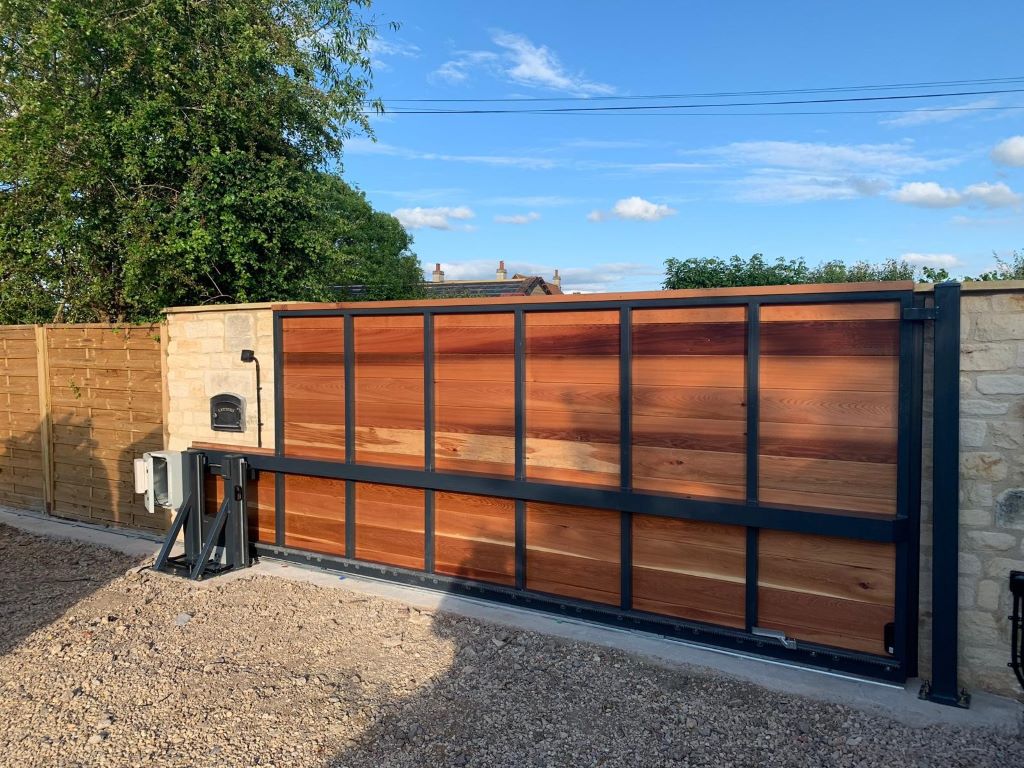 If you are looking for a wooden sliding gate we would recommend a steel frame with the timber mounted to the front. This allows the sliding gate mechanism and electric gate drive system to be connected to the steel frame rather than to timber that is prone to some movement and degradation at the fixing points. The steel frame is then either clad with timber, or the timber gate panel is fixed to the front. An electric sliding gate has a simple drive system and provides a very reliable automatic driveway gate that occupies only a few inches of the available parking area.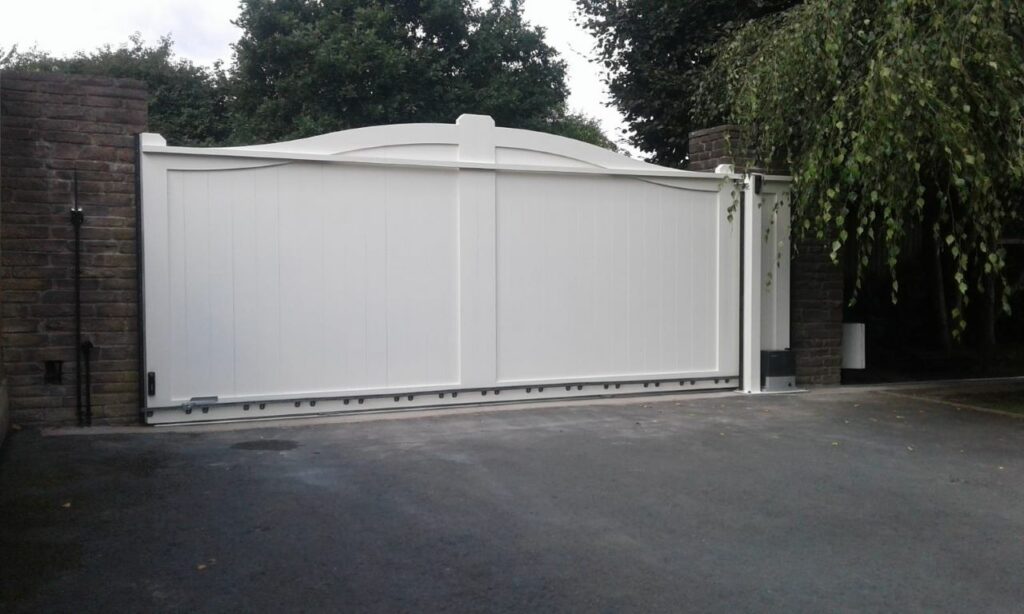 TPS can provide both Tracked Sliding Gates and Cantilever (Track-less) Sliding Gates. A cantilever sliding gate requires no ground track across the entrance. This is useful for uneven surfaces and means there is no track to drive over and the drive surface is not disturbed. To accommodate a tracked sliding gate you will need a slide away area equal to the entrance width plus approximately 500mm. To accommodate a Cantilever Sliding gate you will need a slide away area equal to the width of the entrance plus approximately 30% of the entrance width for the cantilever gear and the balance of the gate. If you are interested in receiving information and a quote for a wooden sliding gate or a metal sliding gate TPS will be very pleased to offer advice and carry out a survey in Gloucestershire, Somerset, Wiltshire or Monmouthshire and surrounding areas.
Premium Design
Our electric gates are designed specifically for your needs.
Quality Support
We offer 24/7 support for your newly fitted gate.
Guarantee
All work Guaranteed in line with regular servicing & maintenance.
Build Quality
Our electric gates are built to ISO 13857 standards.
Sliding Gate Designs
You can select from our range of sliding gate designs or create a bespoke gate to your specifications. Whether you have a design in mind or need a guiding hand to offer impartial advice our team of experienced technicians will be happy to help.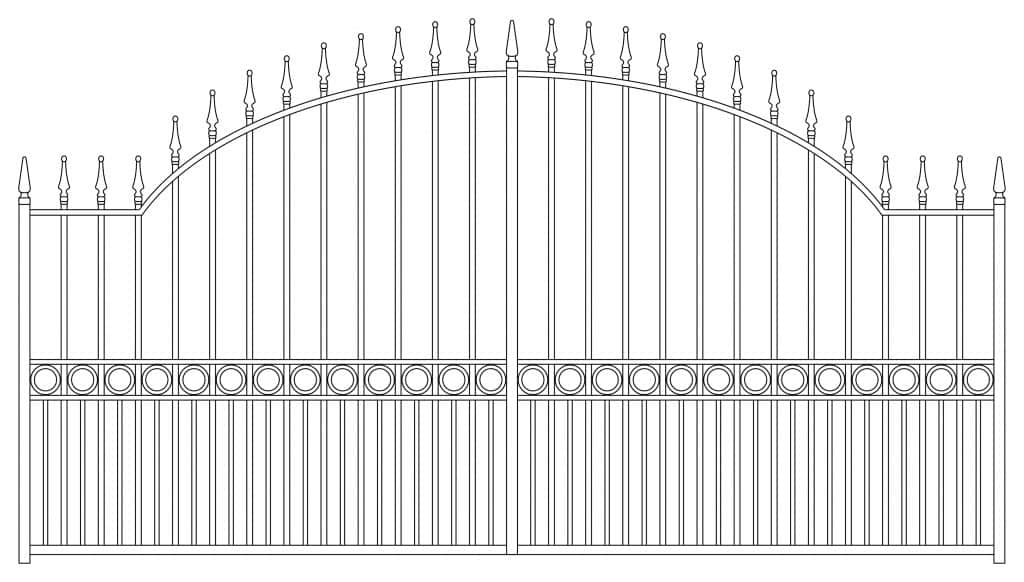 Our handcrafted gates