Automatic Gates for Small Driveways
Electric gates serve many benefits for properties large and small. But, what about automatic gates for small driveways?
We'll dive into our top tips for selecting the perfect automatic gate for your smaller entrance.
Different Gate Types
Bi-Fold Gates
Bi-fold gates make a great option for anyone who doesn't have enough space for a more traditional swing gate. Imagine this style to replicate opening a book. You'll have two gates with an opening in the middle. They can use approximately half the space usually required.
Sliding Gates
Sliding gates offer extra space, allowing you to pull your car up nice and close. A great alternative to a swing gate if you're limited on room. If your property is close to the road, a sliding gate will most likely be the best solution for you. The speed of the opening and length can all be customised to fit your needs.
Telescopic Sliding Gates
A telescopic sliding gate is a truly customised option. Your gate can potentially be split into two or three parts that slide back next to each other to maximise the entrance space with a limited width.
Curved Electric Gates
Curved gates can fit nice and snug in complicated areas while still offering the utmost security. They are a great option for limiting gate posts and other obstructions.
Tracked Sliding Gates vs. Cantilever Sliding Gates
Cantilever sliding gates are trackless.
If your entrance is on an uneven or rocky surface, this may be a perfect choice. To arrange for a trackless sliding gate you will need to have a clear area equal to the width of the entrance plus approximately 30% of the entrance width.
Gates that are on tracks would need an average size opening of 3m 058mm. An additional amount of space will be needed for the overhang and other necessary equipment. That means, on average at least 3m 958mm to either the left or right side of the drive to fit a gate on a track.
While these can all be adjusted depending on the size of your property entrance, it is important to get a general idea for what is at hand.
Wood Vs. Metal
Now that you know which style of gate is the right fit, it's time to look at the different materials.
While aesthetics play a major role in selecting your electric gate, there are other factors to think about.
Security, privacy and maintenance are vital components. We have dived into this topic deeper in our article "Wooden or metal electric gates – which is right for you?"
Our range of handcrafted gates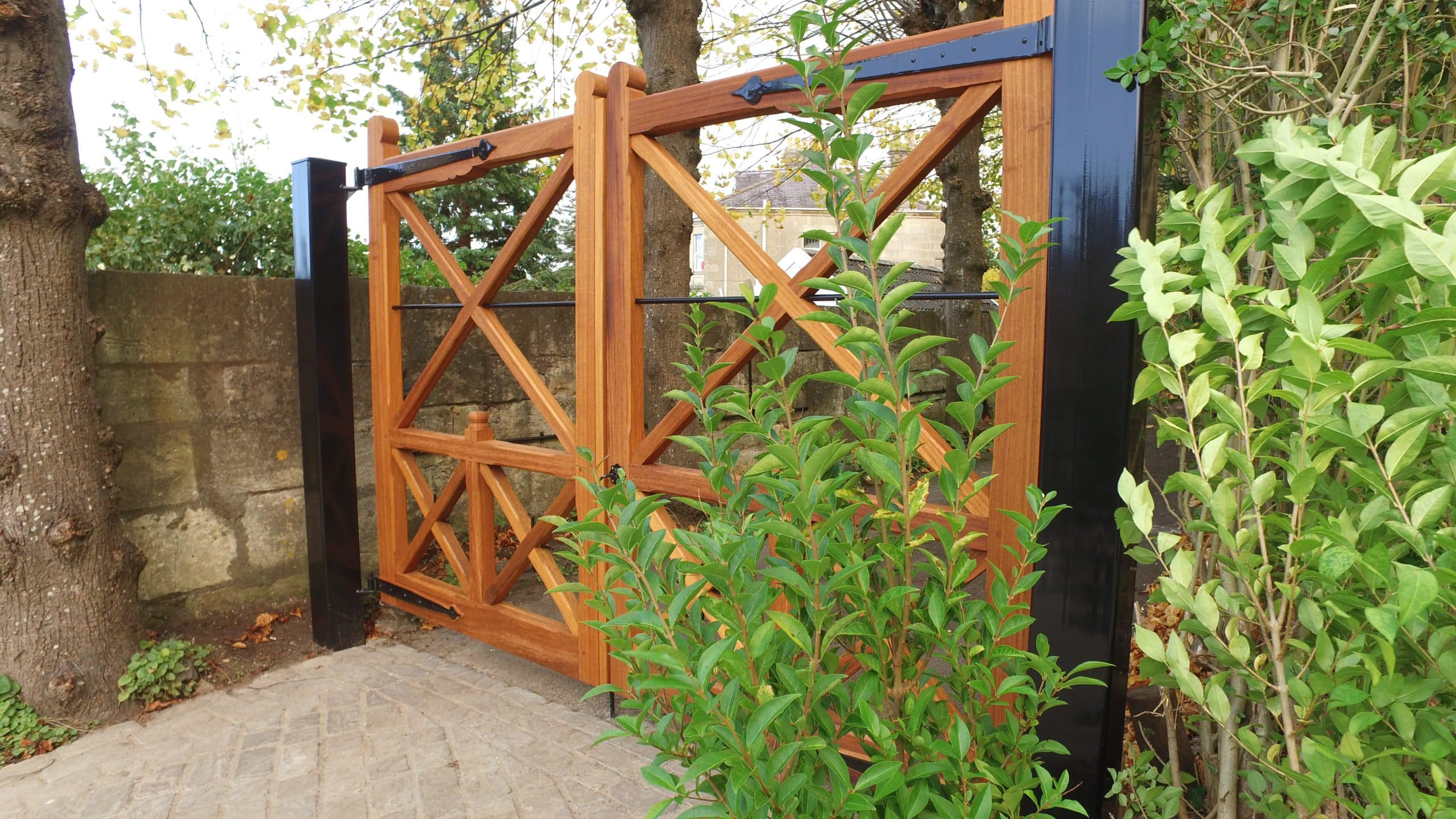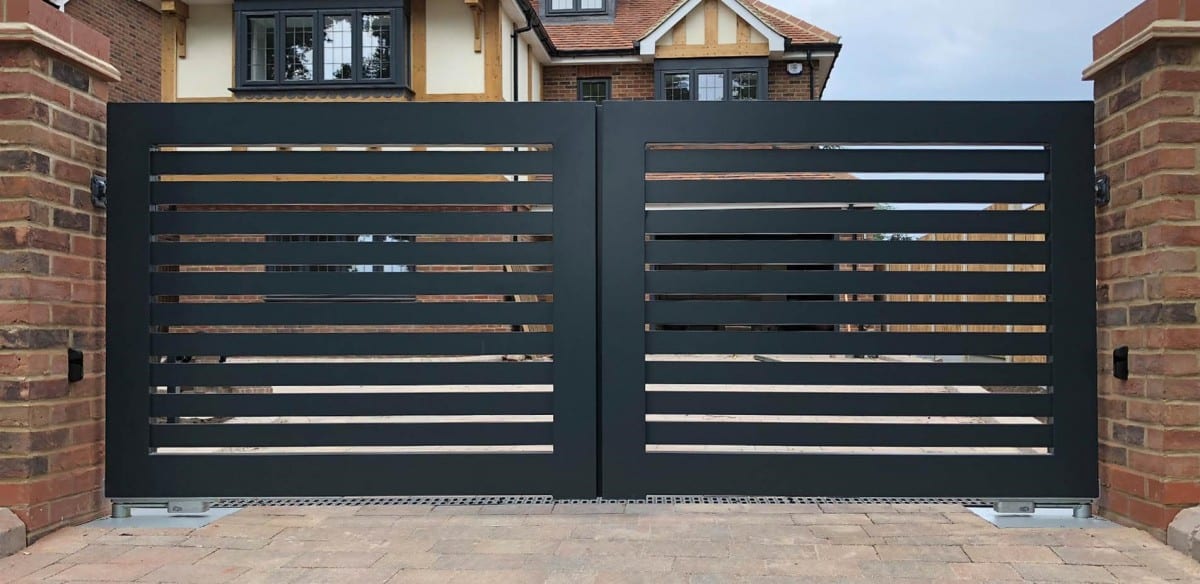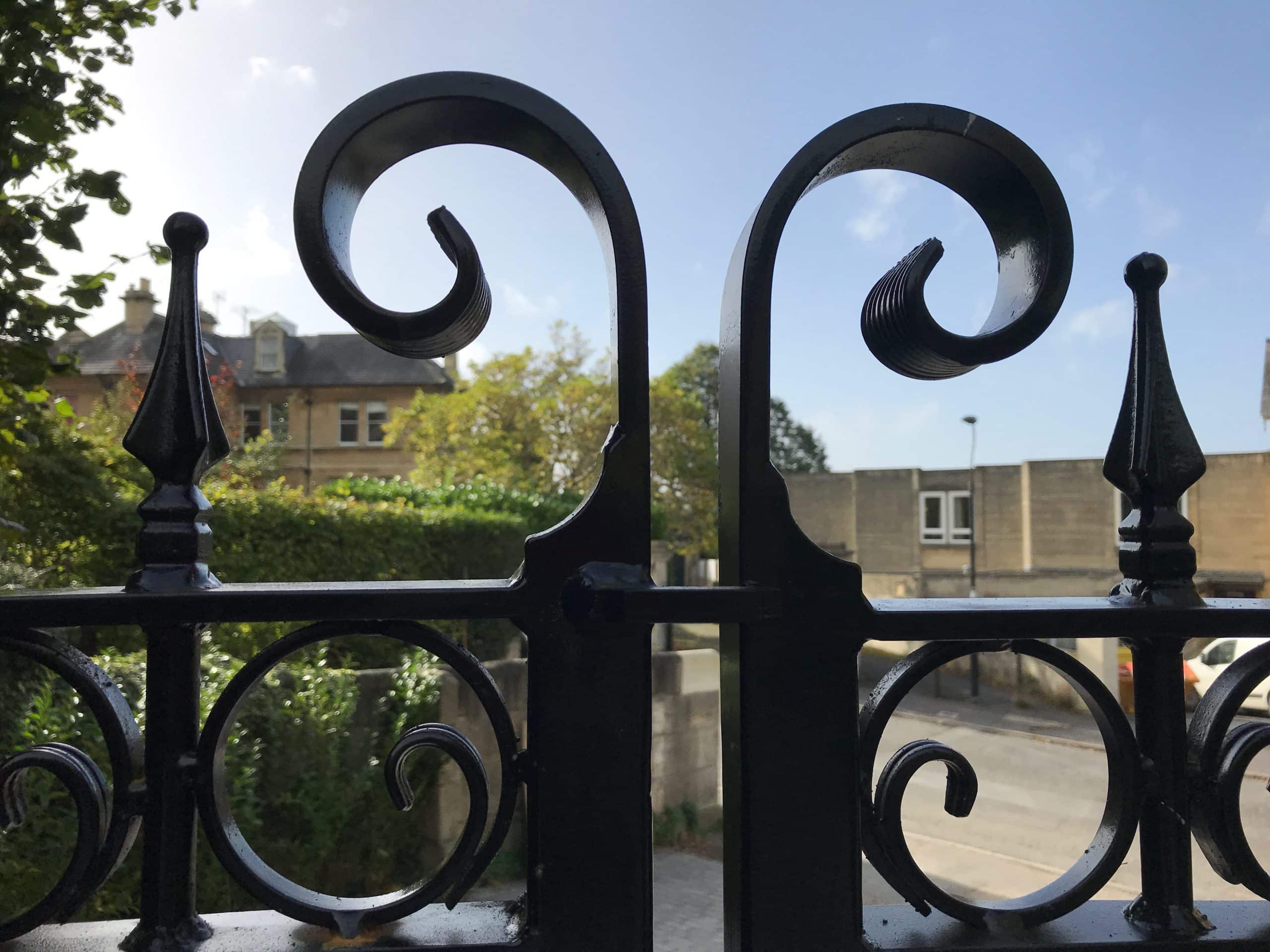 Whether you've selected an electric wooden gate, a bi-fold gate or something completely unique – you're going to need access control.
A keypad can be used at the gate to only allow in people who know your secret 4-digit code. This code is customised by you.
An intercom system is one of the top choices, especially for private properties. We have a range of hardwired and wireless intercoms allowing you to find the right fit.
We also offer a timer for access control. You'll be in control of when the gate can be opened and closed. This is a great option for businesses. It can also be paired with our other options.
Automatic gates are a top choice for security. Not only are they a deterrent for crime, but they can also add some elegant design to your property.
If you're ready to discuss gate design then please get in touch. Our team will help you in designing and installing the perfect automatic gate for you.